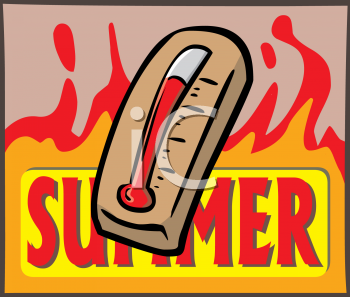 It was 105 degrees the other day at my house and still 75 degrees when I got up at 5:30 AM. When it's this hot, cooking loses much of its charm. That goes double for cooking dinner, because my kitchen gets more afternoon than morning sun. There are limits to the number of salads I can foist off on my spouse, even when I load them with things like beef, chicken, cheese and homemade Thousand Island dressing. After all, this is a man who has a bumper sticker that reads "Eat more beef – the West wasn't won on salad!" To add a little annoyance to the situation, we need a new thermocouple for the gas stove, which keeps going out about 30 minutes into a heat cycle. After three back surgeries in eight weeks, he's not up to fixing it, and my bifocals don't work so well when I'm down on my knees trying to stand on my head so I can see into the depths of the oven. I don't have a solar oven (although a friend has promised to loan me hers; I can't wait!).
Enter the crockpot.
I have an elderly crockpot. It is so elderly that the exterior is harvest orange, a favorite color, along with harvest gold and avocado, back in the 70s and 80s. It's not a very big crockpot (and it's an actual Crockpot, not a slow cooker), the lid is long gone and I use one that my daughter rescued from a saucepan that met its demise in her kitchen. It has two settings, high and low, and must be manually adjusted. But it works quite nicely. I like to either cook something overnight indoors when the nights are reasonably cool (75 degrees at 5:30 AM doesn't qualify) or outdoors during the heat of the day. And as a lazy cook, there's nothing I like better than to serve a single pot meal at the end of a busy day.
While many people would think of the crockpot in connection with stews, soups and such, it is actually much more versatile. Crockpots will cook roasts, chicken, rice, bread, beans and a variety of desserts. They will boil or bake potatoes. Although I've never tried it, I understand you can even use them to bake a cake. You do need a little more advance planning with a crockpot, as it's – well, a slow cooker.
Herewith a few of my favorite heat-of-summer recipes (of course they work in winter as well).
Crockpot Potato Soup
7 cups cubed, peeled potatoes
4 cups chicken broth (preferably from home-grown chickens)
1 cup water
2 cups chopped onions
½ cup chopped celery
½ cup thickly sliced carrots
¼ cup butter
2 tsp salt
¼ tsp pepper
1 Tbs parsley
1 ½ cups cream (fresh Jersey cream from a cow like Maybelle, if you've got it!)
Combine first ten ingredients in crockpot. Cover and cook on high for 7 hours. Add cream, stir to blend and heat. Mash some chunks of potato against the side of the cooker  if you want to make it creamier and thicker.
Crockpot Bread
2 cups warm (not hot) milk
2 TB melted butter
1/4 Cup honey
3/4 tsp salt
1 package active dry yeast
3 Cups whole wheat flour, divided
3/4 to 1 Cup all-purpose flour. (I almost always end up using the full cup).
Butter a 1 quart casserole or souffle dish or other high-sided baking dish. In electric mixer combine milk, butter, honey, salt, yeast, 1 1/2 cups wheat flour and 1/2 cup all-purpose flour. Mix at medium low speed for 2 minutes. Gradually add remaining wheat flour and 1/4 cup to 1/2 cup all-purpose flour. Mix until completely combined. Unlike other bread recipes, dough should remain sticky. Transfer to prepared pan and add pan to slow cooker. Cook on high for 3 hours. Remove from slow cooker and let stand for 5 minutes before cooling on wire rack.
Boiled Potatoes
Dump some washed potatoes into the crockpot (medium to small potatoes cook more evenly). Add hot water to cover about 2 inches above top of potatoes. Turn crockpot on high and cook about 2-3 hours.